Just as sweet and low on calories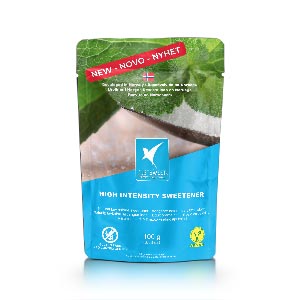 This is the "kitchen version" or JustSweet table sweetener, for anyone who want to make sugar free or sugar reduced; ice cream, pastry, cookies, ice tea, juices, jams, pasta sauce or sweeten any other food product where sugar is a flavor adjusting ingredient.
100 g – 3,5 oz
Depending on where it is used; JustSweet is 25 to 130 times sweeter than sugar. In carbonated soft drinks you will need approximately 3,5 to 4 gram per liter. When baking; 1g of JustSweet will replace approx. 50 g of sugar. If making raspberry jam, 1 g of JustSweet will replace 130 g of sugar, because it is synergistic and enhance the sweetness of the product you mix it with.
For more information about our JustSweet High intensity natural sweetener, please refer to our product page.
We have published a free cook book (How to cook with less calories), showing you how to cook and bake with JustSweet. It is regularly updated, so if you have downloaded it earlier, it may be changed.